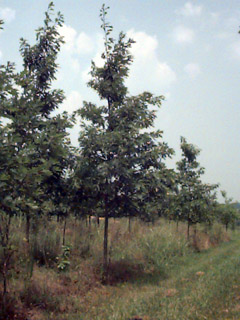 (Quercus shumardii 'Shumard Oak')

The Shumard Oak is a stately tree with beautiful fall color and has good urban adaptability. Used as fuel wood, lumber, veneer product, used in landscaping as a shade tree.
Shumard Oak Details:
Height:
60' - 80'
Spread:
35' - 65'
Shape:
Oval
Flower:
The blooms of the Shumard Oak are brilliant red in the fall.